Roundtable TSMS 11.6 provides GUI client support for Progress OpenEdge 64-Bit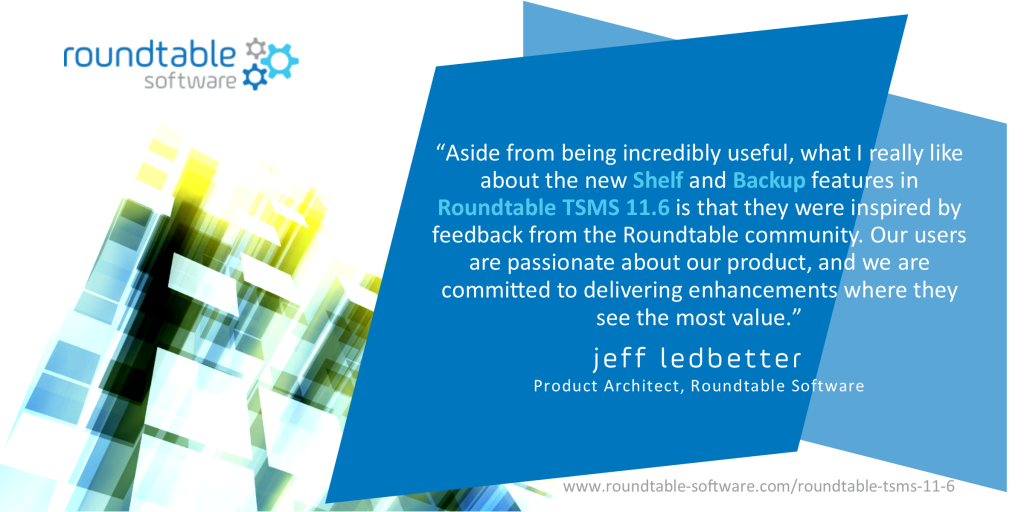 Franklin, TN – Roundtable® Software has announced the availability of the latest version of its industry-leading software configuration management solution, Roundtable TSMS 11.6. As part of this new release, Roundtable Software has introduced the new Shelf feature to enable developers to store their ideas, code samples, and snippets within Roundtable TSMS and more effectively collaborate with colleagues. Additionally, 11.6 includes the new Backup feature to ensure work-in-process code changes are automatically stored in the repository. The Backup feature also provides additional oversight to team leaders and project managers with near real-time visibility into ongoing projects.
"Aside from being incredibly useful, what I really like about the new Shelf and Backup features is that they were inspired by feedback from the Roundtable community. Our users are passionate about our product, and we are committed to delivering enhancements where they see the most value." says Jeff Ledbetter, Product Architect at Roundtable Software.
With the new Shelf feature, developers have access to their own individual library within the Roundtable TSMS repository where they can safely store any kind of file they wish – from work in progress to ideas for new features. For example, if a developer creates code that isn't immediately committed as part of the application but is something they want to save for the future, they can safely save it within Roundtable TSMS. Because the files are stored in the repository versus a local drive, the information is consistently backed up, eliminating the potential for data loss. Each developer's Shelf is visible to all users, enabling ease of collaboration across development teams.
The new Backup feature ensures worry-free coding. When a developer checks out code, changes are committed to the repository each time they save the file. This allows developers to revert back to a prior work-in-progress change or compare a file to a previous work-in-progress change. The feature also provides the organization with an additional disaster recovery solution.
With the Backup feature, team leaders and project managers have greater oversight with near real-time visibility into what developers are working on, what changes they have made, and when they made them – without requiring developers to check in their changes. The feature also facilitates greater collaboration across teams by providing all users that have permissions the ability to see Backup contents.
Both the Shelf and Backup features are available in the standard Roundtable TSMS GUI client and the plug-in client for Progress Developers Studio.
"Digital transformation is the clear path forward for companies looking to compete and succeed in the digital era. To be successful, it may require organizations to rethink/enhance the current software development process. With the release of 11.6, Roundtable delivers the features, structure and stability Progress® OpenEdge® customers will need to evolve, transform, and succeed — today and tomorrow," says Colleen Smith, General Manager of Progress OpenEdge.
In addition to the Shelf and Backup features, 11.6 includes GUI client support for Progress OpenEdge 64-Bit.
About Roundtable Software
Roundtable Software is recognized globally as a leader in providing best-practice software configuration management solutions for the Progress Software OpenEdge® development environment. Roundtable Software's product line includes Roundtable TSMS, a software configuration management solution for Progress OpenEdge development, and Roundtable Team, an Eclipse-based version control solution. Roundtable Software is a Progress technology alliance partner. www.roundtable-software.com
Progress and OpenEdge are trademarks or registered trademarks of Progress Software Corporation in the U.S. and other countries.