Did you know that Agile shops can benefit from Roundtable TSMS? In this month's video tip, Roundtable Consultant Michael Solomon explains how you can leverage task management features in Roundtable TSMS to support Agile methods.
According to Michael, the Roundtable Tasks window (see image below) gives you the ability to define the work within each sprint down to the program level.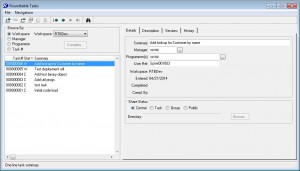 He also suggests that you can easily group Roundtable tasks together within a user story and track work accomplished in each sprint. To make it easier to track work as it is accomplished, developers can enter time estimates by task and then track the actual time spent working on each task using the Roundtable Task Notations window (see image below). This gives scrum masters the ability to generate burn down reports on demand.
How do you use Roundtable TSMS for Agile methodology? Join the conversation on our Roundtable TSMS LinkedIn group page to share your ideas or join us live at PUG Challenge Americas for Michael's full presentation on Tuesday, June 10th.
For more information about Roundtable TSMS, Software Configuration Management for Progress OpenEdge development, contact Roundtable sales or visit www.roundtable-software.com.