What an invigorating trip it has been!
Progress Exchange welcomed us in its warm orange-branded arms immediately upon arrival. It was nice to arrive a day ahead to get a sneak peak of its new color scheme (ORANGE!), to be one of the first to receive the newly-minted spark-themed Progress business card from SWAT team member Gary Clink (and a few others), and to happen upon a rehearsal of the silhouette dance and shadow performance group, Le Ombre, as they prepared for the impressive conference opening.
As we wandered into the expo to set up Booth 13, we found the area quite captivating. Orange was definitely the central theme for this event: orange paper lanterns, orange flowers, orange foods, and even an orange Sparktini (a drink to match the new Progress spark logo, of course!). All visuals aside, the message was beyond branding. Everything about the event — colors, theme, and message — seemed to say, "Progress is committed … committed to its new vision, committed to its partners and clients, and committed to taking OpenEdge into what lies ahead and beyond."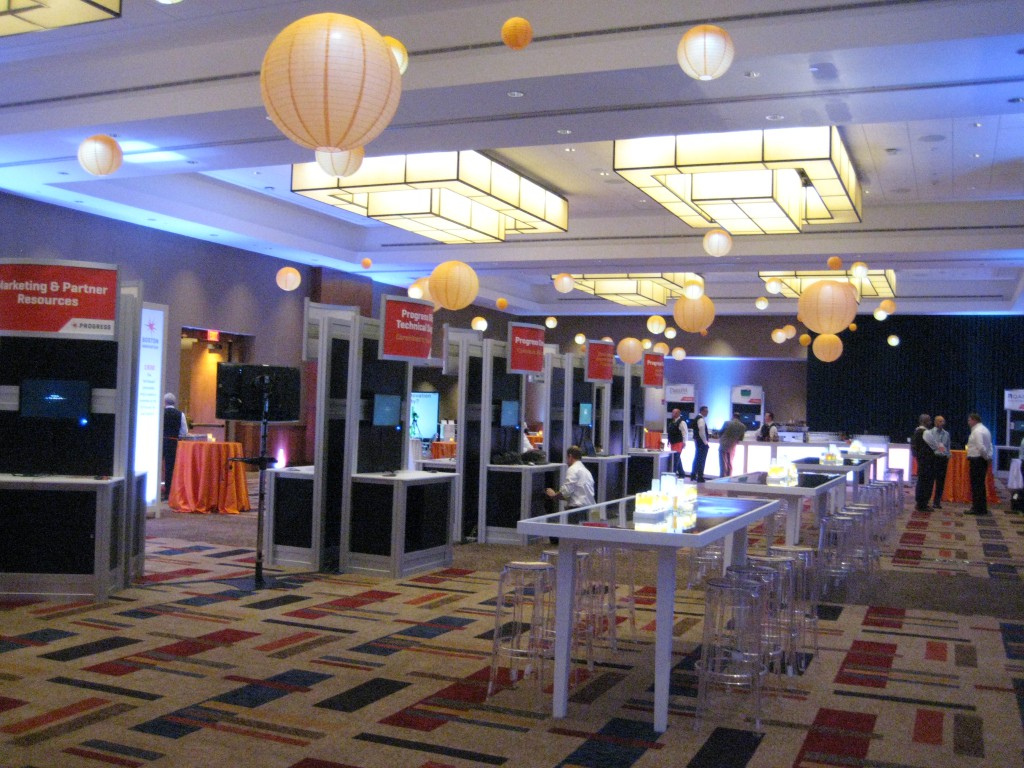 During the expo, we had a great time catching up with our Roundtable clients. There was so many at this event and from some many different parts of the world! AFA Forsakring from Sweden, Automate from South Africa, as well as groups much closer to home: COINS, Broadridge, Trinium, Transitions Optical, Otter Tail, Berkheimer Outsourcing, DMSI, FDM4, Epicor, Eaton, and more. It's so nice to finally put faces to names, e-mail addresses, and serial numbers. The best we usually get is a LinkedIn thumbnail.
Perhaps one of our favorite client moments at the conference came from Mark Opfer of DMSI on the first evening. He candidly told us that it is Roundtable — our product — that has given him back his home life. Before implementing our system, he said he spent too much of his time looking for who did what and where; now he can focus on getting his work done and getting back home to his family. Needless to say, he highly recommends our solution! (Mark is on the left in the photo below.)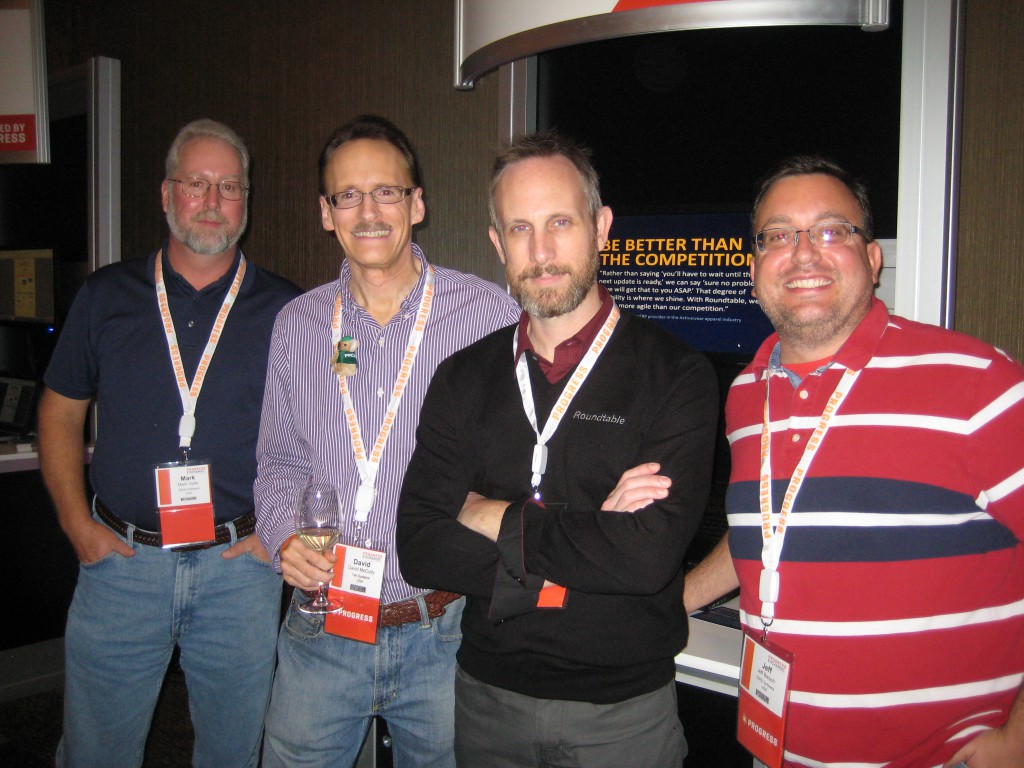 We also had a client stop by and pitch our product to his potential client! We love it when clients are paying it forward. That's when we know we are doing good work. (Thanks for the recommendation, John Cutsey.)
All fun aside, we left with a few inspirational messages from Progress. One of our favorites was from guest speaker Luke Williams. His presentation on disruptive thinking (or unthinking) was captured nicely in the storyboard below.
We also had a chance to share a message of our own. Why Progress? Our very own Jeff Ledbetter answers why in his video message below, which you can also find posted on the Progress Exchange 2013 playlist.
Separately, Jeff also shared some of his insights (and proposed some viable solutions) about the new challenges that lie ahead for managing OpenEdge development projects in his session, "Roundtable Enterprise: SCM for OpenEdge and Beyond." If you missed it, click this link to request a copy. If you are now using Corticon, BPM, or Java in addition to OpenEdge, it's worth the look!
Please note: The opinions expressed in this blog are solely those of the writer and not Tugboat Software. The photos above are selections from our 50+ event photos taken at Progress Exchange 2013. If you would like to see the full album, click this link to enjoy!